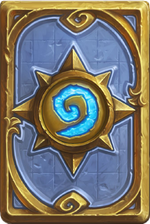 Card Backs are used to decorate the backs of your hard-earned cards, each with unique art and a unique way to acquire them. Both players' card backs are visible while dueling.
You earn card backs by fulfilling various criteria, such as playing in Ranked mode and achieving a rank of at least 20. You will be rewarded with a new card back once the month's season comes to a close if you have met this criteria. Card Backs are purely decorative and does not affect the cards in any way other than changing the look on the reverse side of the cards.
Card Backs Collection Manager
The card back collection can be found in the Collection Manager. You can set a card back per deck you have built. If no card back has been selected for the specific deck, your favorite card back will be used.
Set a card back as your favorite by selecting the card back (right click on desktop), and then selecting 'Make Favorite'. If no favorite has been selected, the 'Classic' card back will be selected.
Available
Adventure Card Backs
These card backs are unlocked after successfully completing newly added Solo Adventures:
Alternate Hero Card Backs
These card backs are available with the purchase of an Alternate Hero from the in-game store:
Blizzard Collector Editions
eSports Card Backs
Matches & Promotions
Ranked Play
These card backs are either available to be earned now in ranked play or will be in an upcoming season.
No longer available
These card backs are not obtainable any more.
Ranked Play
Achieving Rank 20
These card backs were acquired by reaching rank 20 in ranked play during individual seasons.
2014
2015
2016
2017
2018
Winning Five Games in Ranked Play
2018 (cont.)
Promotions
BlizzCon
Pre-Purchase Card Backs
Tavern Brawl
Twitch Prime
Patch changes
 (Patch 9.2.0.22017) Unholy and Gone Fishing added.; We've improved Card Back search functionality, especially with regard to favorite card backs.
Community content is available under
CC-BY-SA
unless otherwise noted.