Cannonmaster Smythe
Cannonmaster Smythe
| | |
| --- | --- |
| Set: | Forged in the Barrens |
| Type: | Minion |
| Class: | Paladin |
| Rarity: | Legendary |
| Cost: | 5 |
| Attack: | 4 |
| Health: | 4 |
| Abilities: | Battlecry, Copy, Destroy, Summon |
| Tags: | Deathrattle-generating, Secret-related |
| Artist: | Arthur Bozonnet |
Battlecry: Transform your Secrets into 3/3 Soldiers. They transform back when they die.
"Smythe, it's been a real blast serving the Alliance with you."
Cannonmaster Smythe is a legendary paladin minion card, from the Forged in the Barrens set.
Cannonmaster Smythe can be obtained through Forged in the Barrens card packs, through crafting, or as an Arena reward.
| Card | Crafting cost | Disenchanting |
| --- | --- | --- |
| Cannonmaster Smythe | 1600 | 400 |
| Golden Cannonmaster Smythe | 3200 | 1600 |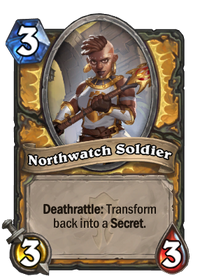 Please add any available information to this section.
Summon

Attack

Death

This section uses content from Wowpedia.
Cannoneer Smythe is a human found at Northwatch Hold in the Southern Barrens. He is located near the shore bank, alongside the other cannoneers. It is unknown whether he survived the razing of Northwatch Hold.