Roblox: DeepWoken - The Loop
Play Sound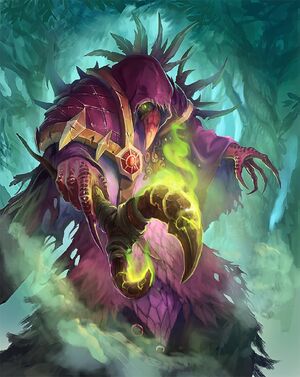 C'Thun druid is a Druid deck type. As with all decks centered around the Old God, C'Thun, it revolves around buffing C'Thun and utilizing him as a powerful 10-mana finisher.
Druid can utilize C'Thun very effectively through their natural ramp abilities, in cards like Wild Growth and Innervate. Druid also has access to strongest C'Thun buff minion in Dark Arakkoa, giving +3/+3 to their C'Thun, allowing them to reliably get C'Thun to 10/10, which is necessary for activating strong effects such as that of Twin Emperor Vek'lor. Druid's access to an abundance of Taunt minions and the ability to quickly get them out using ramp makes it one of the most reliable classes to use to get C'Thun out.
Experimentation is also being done in combining C'Thun with the Journey to Un'Goro Druid Quest, Jungle Giants. Although not as strictly focused on the quest as a standard quest-focused Ramp Druid build, quest completion can be accomplished with a smaller package of activating minions woven into the standard C'Thun druid core, and has proven to be a somewhat effective variant.
Common cards
[
]
The following cards were usually in the deck.
Core cards
[
]
The following cards are played in most or all versions of the deck:
Optional cards
[
]
The following cards are played more than occasionally, but not always: