Burning Blade Acolyte
Burning Blade Acolyte
| | |
| --- | --- |
| Set: | Forged in the Barrens |
| Type: | Minion |
| Rarity: | Rare |
| Cost: | 5 |
| Attack: | 1 |
| Health: | 1 |
| Abilities: | Deathrattle, Summon |
| Tags: | Demon-generating, Taunt-generating |
| Artist: | Mauricio Herrera |
Deathrattle: Summon a 5/8 Demonspawn with Taunt.
Wields a disappointingly normal looking blade.
Burning Blade Acolyte is a rare neutral minion card, from the Forged in the Barrens set.
Regular Burning Blade Acolyte can be obtained through Forged in the Barrens card packs, through crafting, as an Arena reward, or through the Highest Rank Bonus chest at the end of a Ranked season.
| Card | Crafting cost | Disenchanting |
| --- | --- | --- |
| Burning Blade Acolyte | 100 | 20 |
Two copies of golden Burning Blade Acolyte are obtained by reaching levels 23 and 38 respectively in the Forged in the Barrens' Rewards Track. Golden Burning Blade Acolyte is uncraftable and cannot be crafted or disenchanted.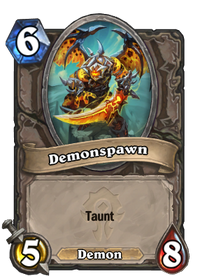 Please add any available information to this section.
Summon
Attack

Death