Bumper Car
Bumper Car
| | |
| --- | --- |
| Set: | Madness at the Darkmoon Faire |
| Type: | Minion |
| Minion type: | Mech |
| Class: | Warrior |
| Rarity: | Rare |
| Cost: | 2 |
| Attack: | 1 |
| Health: | 3 |
| Abilities: | Deathrattle, Generate, Rush |
| Tags: | Rush-generating |
| Artist: | Ursula Dorada |
Rush Deathrattle: Add two 1/1 Riders with Rush to your hand.
Subject: Re: Unsafe Rides? bump
See this card on PlayHearthstone
Bumper Car is a rare warrior minion card, from the Madness at the Darkmoon Faire set.
Bumper Car can be obtained through Madness at the Darkmoon Faire card packs, through crafting, or as an Arena reward. Regular Bumper Car can also be obtained through the Highest Rank Bonus chest at the end of a Ranked season.
| Card | Crafting cost | Disenchanting |
| --- | --- | --- |
| Bumper Car | 100 | 20 |
| Golden Bumper Car | 800 | 100 |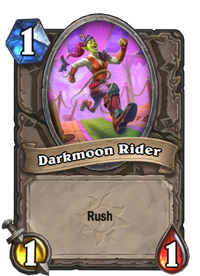 Bumper Car is a very solid minion for warrior, especially in rush warrior decks. The minions it adds to your hand can be buffed with cards like Conditioning, Overlord Runthak, and Parade Leader. It has incredible synergy with Playmaker, adding up to 4 Darkmoon Riders to your hand. These riders can then also be copied by Playmaker. Another notable synergy is with E.T.C., God of Metal, which can provide large amounts of burst damage.

Please add any available information to this section.
Summon
Attack
Death