Bru'kan
Regular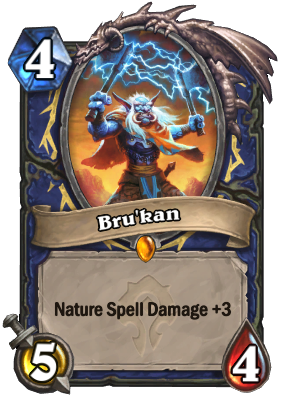 Gold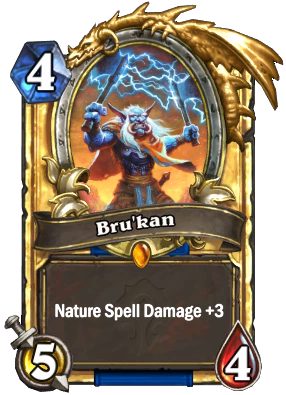 Diamond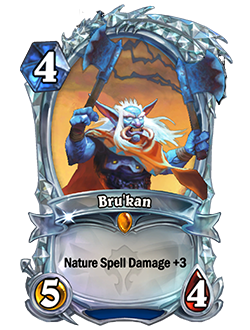 Nature Spell Damage +3
Flavor text
Bru'kan, his body weathered and weary, felt his time nearing its end. Teaching brave champions like Rokara gives him hope for a greater future.
External links
For other representations of Bru'kan, see Bru'kan (disambiguation).
Bru'kan is a legendary shaman minion card, from the Forged in the Barrens set.
How to get
[
]
Bru'kan can be obtained through Forged in the Barrens card packs, through crafting, or as an Arena reward.
| Card | Crafting cost | Disenchanting |
| --- | --- | --- |
| Bru'kan | 1600 | 400 |
| Golden Bru'kan | 3200 | 1600 |
Diamond Bru'kan can be obtained by completing the Forged in the Barrens Legendary Collector (5/5) achievement (Collect 25 Legendary cards from the set).
Strategy
[
]

Please add any available information to this section.
Quotes
[
]
Summon
Attack
Death
Lore
[
]
Bru'kan is unique to Hearthstone. He is one of the ten mercenaries introduced in Forged in the Barrens.
A troll in his twilight teaches one last troop of troublemakers…
Bru'kan, an elderly Darkspear medicine man, has had encounters with lightning, lava, and other elemental dangers, resulting in him being a few totems short of a whole shaman. He has a good heart and cares deeply for his tribe, but in his younger years witnessed many tragedies.
Outside his hut one evening, Bru'kan looked to the heavens and witnessed the Night of Falling Stars. Glowing fragments of Light fell across the Barrens. His ear hairs stood on end: This was a sign. He reached out with his mind and cast Far Sight, hoping to divine the future: He saw two dragons twisted together; he saw light and darkness merged, and ringed around it all he saw the arched symbol of the Horde triumphant. For the first time in many years, hope blazed within him.
Bru'kan found the face of that new promise in the young orc warrior Rokara. He sees great potential in her and in this new Horde she represents. But both her and the Horde they're building need guidance! He resolves to return to the fight, and to train Rokara with all his wisdom – thus guiding the Horde in the proper direction…[1]
Gallery
[
]
Patch changes
[
]
References
[
]