Bronze Herald
Bronze Herald
| | |
| --- | --- |
| Set: | Rise of Shadows |
| Type: | Minion |
| Minion type: | Dragon |
| Class: | Paladin |
| Rarity: | Common |
| Cost: | 3 |
| Attack: | 3 |
| Health: | 2 |
| Abilities: | Deathrattle, Generate |
| Tags: | Dragon-generating |
| Artist: | Alex Horley |
Deathrattle: Add two 4/4 Dragons to your hand.
This is why you shouldn't shoot the messenger.
Bronze Herald is a common paladin minion card, from the Rise of Shadows set.
Bronze Herald can be obtained through Rise of Shadows card packs, or through crafting.
| Card | Crafting cost | Disenchanting |
| --- | --- | --- |
| Bronze Herald | 40 | 5 |
| Golden Bronze Herald | 400 | 50 |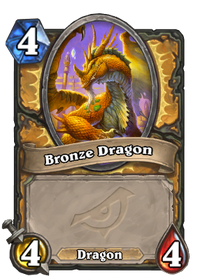 The Bronze Herald has mediocre status for it's cost, less than an Ironfur Grizzly, but it's true purpose is to fulfill it's deathrattle. Dying puts two 4-cost 4/4 Bronze Dragons in your hand. While these dragons are good to have, they have no additional effects, so saving some hand-buffs for them would be useful. Arena Fanatic, Farraki Battleaxe, (if you can get lucky with overkills), and especially Dragon Speaker can help build the Bronze Dragons into more serious threats. As this is a slower strategy, the Bronze Herald is best used in control decks where you can buy time for your dragons to reach their full potential, as well as attack behind strong taunts like Tirion Fordring.
This dragon is a bronze drake that appears to be leading a pack of the Bronze Dragonflight to Dalaran, likely attempting to reinforce the city against Arch-Villain Rafaam's League of E.V.IL.