Brewster, the Brutal
Regular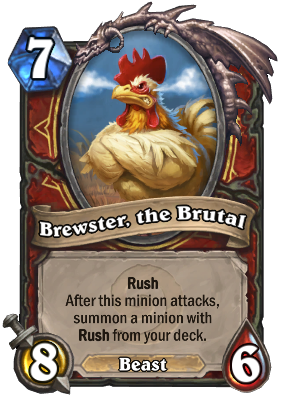 Gold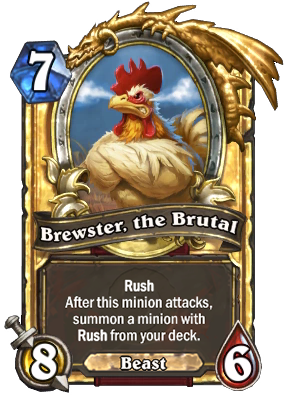 Rush
After this minion attacks, summon a minion with
Rush
from your deck.
Flavor text
"If you want to know why he crossed the road, YOU go ask him."
External links
Brewster, the Brutal is an uncollectible warrior minion card that only appears in Duels. It is one of warrior's Signature Treasures.
How to get
[
]
Brewster, the Brutal is available for free and can be added to a starting Duels warrior deck.
Brewster, the Brutal is uncollectible and unavailable in any other game modes.
Strategy
[
]
For the class' general strategy, see Duels/warrior.

Please add any available information to this section.
Trivia
[
]
Brewster is the name of a real life rooster. On a virtual tour of a farm for Team 5, the host showed the team a rooster named Brewster. One of the team members in the video chat said that they should make Brewster a card, and another person added that he should have Taunt. However in game, the card design team chose to make Brewster have Rush.
Gallery
[
]
Patch changes
[
]