Bouncing Blade
Deal 1 damage to a random minion. Repeat until a minion dies.
Flavor text
Only goblins would think this was a good idea. Even they are starting to have their doubts.
External links
Bouncing Blade is an epic warrior spell card, from the Goblins vs Gnomes set.
How to get
[
]
Bouncing Blade can be obtained through Goblins vs Gnomes card packs, or through crafting.
| Card | Crafting cost | Disenchanting |
| --- | --- | --- |
| Bouncing Blade | 400 | 100 |
| Golden Bouncing Blade | 1600 | 400 |
Notes
[
]
Strategy
[
]
Bouncing Blade obviously has great synergy with on-damage triggered effects such as Acolyte of Pain and Gurubashi Berserker. Minions such as Armorsmith, Axe Flinger and especially Frothing Berserker which also trigger from damage dealt to other minions offer even greater synergy.
Since it only deals damage until a minion dies, Bouncing Blade is less effective against a large board of smaller minions than it is against a few larger minions. Played on a board with 14 1/1 minions, Bouncing Blade will deal only a single point of damage, and remove only a 1/1. Played on a board with 2 8/8 minions, Bouncing Blade will deal between 8 and 15 damage, and remove an 8/8, as well as likely weakening the other target significantly.
Obviously, Bouncing Blade is best played when you have few if any minions on the board - synergies such as Frothing Berserker aside. It can be used to lower Health on multiple minions in order to make them removable using other attacks such as Whirlwind or Cleave. Commanding Shout and Immune aside, playing Bouncing Blade against a single target will guarantee the blade hitting that target as many times as necessary to destroy it, at least up to the 80 bounce limit.[8] This means against a single minion Bouncing Blade can be relied upon to destroy that target. However, unlike destroy effects like Deadly Shot, Bouncing Blade will destroy a single target one point of Health at a time.
Gallery
[
]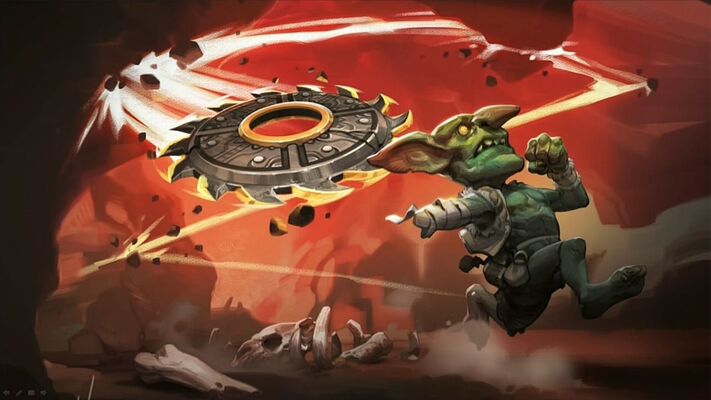 Patch changes
[
]
References
[
]