m

 

Line 24:
Line 24:
 
 
 

The deathrattle is also [[On-discard effect|triggered]] when the card is [[Discard effect|discarded]], allowing for numerous synergies (check the linked articles about discarding for more information).

 

The deathrattle is also [[On-discard effect|triggered]] when the card is [[Discard effect|discarded]], allowing for numerous synergies (check the linked articles about discarding for more information).

 
+
 
+

==Sounds==

 
+

{{Use sounds}}

 
 
 

==Gallery==

 

==Gallery==
---
Latest revision as of 16:29, 14 May 2021
Boneweb Egg
Regular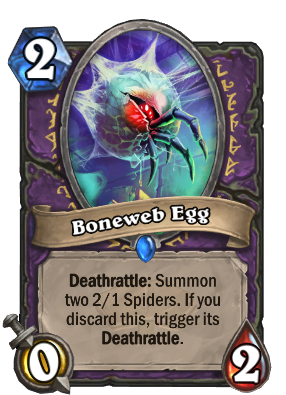 Gold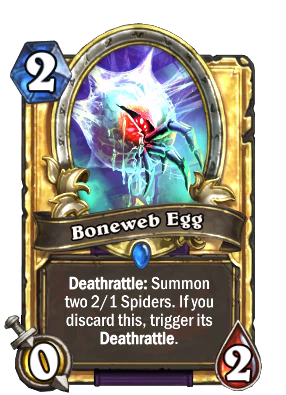 Deathrattle:
Summon two 2/1 Spiders. If you discard this, trigger its
Deathrattle
.
Flavor text
Noblegarden is going to be really exciting this year!
External links
Boneweb Egg is a rare warlock minion card, from the Scholomance Academy set.
How to get[]
Boneweb Egg can be obtained through Scholomance Academy card packs, through crafting, or as an Arena reward. Regular Boneweb Egg can also be obtained through the Highest Rank Bonus chest at the end of a Ranked season.
| Card | Crafting cost | Disenchanting |
| --- | --- | --- |
| Boneweb Egg | 100 | 20 |
| Golden Boneweb Egg | 800 | 100 |
Summoned minions[]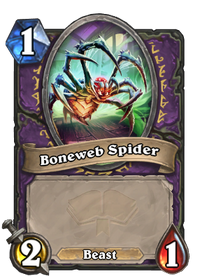 Strategy[]

Please add any available information to this section.
This card is part of the egg family, having 0 attack and a minion-generating deathrattle. This means it is best played when you have a quick way of triggering this deathrattle. This can be done by :
Playing the egg next to a crowded board that the opponent has no choice but to AOE.
Playing the egg right before using an AOE spell yourself. Notable examples being Plague of Flames or Fire Breather.
Buffing the egg's attack and trading it (or leaving it your opponent the choice to leave it alone or face the generated minions).
The deathrattle is also triggered when the card is discarded, allowing for numerous synergies (check the linked articles about discarding for more information).
Sounds[]
Summon
Attack
Death
Gallery[]
Patch changes[]