Fire Emblem Warriors: Three Hopes - The Loop
Play Sound
Bob Fitch
Regular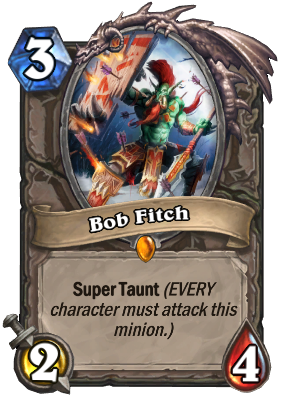 Super Taunt
(EVERY character must attack this minion.)
External links
Bob Fitch is a Technical Director[1]/Lead Software Engineer[2] at Blizzard Entertainment, and a member of the Team 5 Hearthstone development team. He is featured in the credits card of the same name.
Notes
[
]
Fitch has worked for Blizzard since 1992,[3] including work on World of Warcraft[4] and the original StarCraft engine. At the time the company - then named Silicon & Synapse - was only 10 months old, and Fitch was brought in to work on its current title, Rock n' Roll Racing.[5] This was Fitch's first game.[5] Since then he has "engineered on pretty much everything we have ever made or designed, or helped or tested or whatever", stating, "if there is a game, I have worked on it".[5] Fitch did all the AI programming for Warcraft, Warcraft II and Warcraft III, as well as "high-end game balance", combat systems and "all the high-end loot" for vanilla World of Warcraft.[5]
Trivia
[
]
Fitch turned up for his original Blizzard interview in a shirt "that has a Tasmanian devil eating a peace symbol on the front, and says I love toxic waste on the back".[6][5] Fitch deliberately wore the shirt to the interview, inspired by the film Real Genius, and thus successfully struck a chord with the company.[5] Interviewer Allen Adham recalls, "We knew if somebody came in a suit to the interview, then they wouldn't be a cultural fit. So when Bob rolled up in a I love toxic waste T-Shirt, we knew he was probably the guy. "[5]
Card art
[
]
The art for Fitch's credits card was created by .[7]
Gallery
[
]
References
[
]
External links
[
]