Bloodsail Flybooter
Bloodsail Flybooter
| | |
| --- | --- |
| Set: | Descent of Dragons |
| Type: | Minion |
| Minion type: | Pirate |
| Class: | Rogue |
| Rarity: | Common |
| Cost: | 1 |
| Attack: | 1 |
| Health: | 1 |
| Abilities: | Battlecry, Generate |
| Tags: | Pirate-generating |
| Artist: | Jim Nelson |
Battlecry: Add two 1/1 Pirates to your hand.
They're pretty fly for some pirate guys.
See this card on PlayHearthstone
Bloodsail Flybooter is a common rogue minion card, from the Descent of Dragons set.
Bloodsail Flybooter can be obtained through Descent of Dragons card packs, or through crafting.
| Card | Crafting cost | Disenchanting |
| --- | --- | --- |
| Bloodsail Flybooter | 40 | 5 |
| Golden Bloodsail Flybooter | 400 | 50 |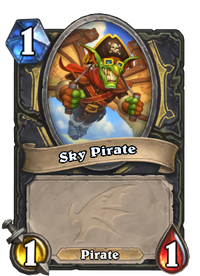 Although the effect of creating two 1/1s doesn't look very powerful, the fact that this is a Rogue card and that the cards generated are 1 mana can help Rogue use their Combo effects without using the Coin. It can also be used to simply get some quick board control early in the game. This card pairs best with cards such as Eviscerate, Perdition's Blade, and EVIL Miscreant.
As a side benefit, Bloodsail Flybooter and its generated cards are Pirates, working with Pirate synergies.
Summon

Love the feel o' wind in me sails.
Attack

Freefalling!