Bloodfury Potion
Bloodfury Potion
Give a minion +3 Attack. If it's a Demon, also give it +3 Health.
You know what really makes my blood boil? The skyrocketing price of Bloodfury potions!
Bloodfury Potion is a rare warlock spell card, from the Mean Streets of Gadgetzan set.
Bloodfury Potion can be obtained through Mean Streets of Gadgetzan card packs, or through crafting.
| Card | Crafting cost | Disenchanting |
| --- | --- | --- |
| Bloodfury Potion | 100 | 20 |
| Golden Bloodfury Potion | 800 | 100 |
As well as being collected in decks, this card can also be generated by the following card.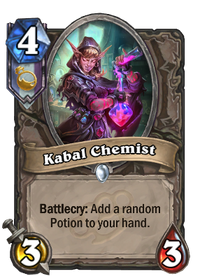 A fair buff for demon minions, but overpriced for anything else. It's less flexible than Demonfire Demonheart and generally one of the worse outcomes for Kabal Chemist. This card should be reserved for demon-based decks.