Wrath Weaver
59670 • BGS_004
Regular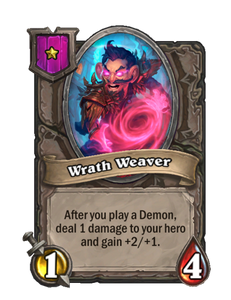 Dimensions:
Full
•
330 x 410px
Golden

Image link
Dimensions:
Full
•
330 x 410px
After you play a Demon, deal 1 damage to your hero and gain +2/+2.
Keywords
TRIGGER_VISUAL
Full tags
CLASS=12 RARITY=1 CARDTYPE=4 COST=1 ATK=1 HEALTH=3 ELITE=0 FACTION=3 ENCHANTMENT_BIRTH_VISUAL=0 ENCHANTMENT_IDLE_VISUAL=0 TECH_LEVEL=1 TRIGGER_VISUAL=1 1429=59679 IS_BACON_POOL_MINION=1 1593=1
Wiki tags
Deal damage, Increment attribute
Wiki referenced tags
Damage-related, Demon-related, Hero-related
External links
Wrath Weaver is a Tier 1 minion in the Battlegrounds game mode.
Notes
[
]
Playing tier-5 Mal'Ganis or similar "Immune" demons while Wrath Weaver is on board will not deal any damage to the friendly hero.

in August 2021 Mal'Ganis was replaced with tier-3 Kathra'natir
Strategy
[
]
While a poor minion in early rounds, Wrath Weaver can grow quite powerful and potentially last until the end-game. If you control two copies of Wrath Weaver, it may be more efficient to delay leveling up your tavern to obtain a third copy as this will minimize the self-damage taken in future rounds since the golden version of Wrath Weaver will do half of the self-damage that two Wrath Weavers will do otherwise.
Mal'Ganis will allow Wrath Weaver to be continually buffed without any self-damage.
Poisonous minions are particularly effective against Wrath Weaver, so it would be wise to protect Wrath Weaver from Poisonous minions by placing smaller minions before him to absorb the attacks.
Sounds
[
]
Play
Attack
Death
Gallery
[
]
Patch changes
[
]