Shifter Zerus
Regular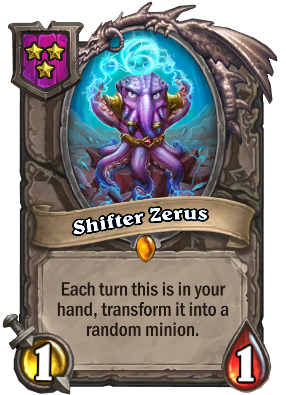 Golden

Image link
Each turn this is in your hand, transform it into a random minion.
External links

The subject of this article has been removed from
Hearthstone
.
The in-game information in this article is kept purely for historical purposes.
Shifter Zerus is a Tier 3 minion in the Battlegrounds game mode.
Notes
[
]
Strategy
[
]
Shifter Zerus had the unique ability to transform into any minion regardless of Tavern Tier, which was making it a potentially extremely powerful card. As long as you kept Zerus in your hand, you could wait until it transforms into a powerful late-game minion or a valuable asset to your synergy, and potentially cheat out a stronger minion earlier than normal. It was also a good idea to use Zerus to create a golden minion and obtain a Triple Reward, but the transformed Zerus had to be played first in order to combine into a triple.
However, Zerus was incredibly luck-based and unreliable. He had only a 1 in 82 chance of transforming into any given minion in Battlegrounds per turn, making it very difficult to get a specific key card, and the chance of getting a Tier 5 or 6 minion was around 1 in 4. Until he transformed into a useful card, Zerus was an investment of 3 coins for no benefit, so you could pick up this card if you felt his highroll potential was worth the significant chance of him doing nothing.
It was possible to obtain a Golden Shifter Zerus, which could transform into any Golden minion, but only untransformed Zeruses could be used to create one. While you could keep Zerus on your board, it was usually ill-advised since you had to take a 1/1 minion with no other effects into combat and wait until it could be tripled.
Gallery
[
]
Patch changes
[
]