King Mukla
Regular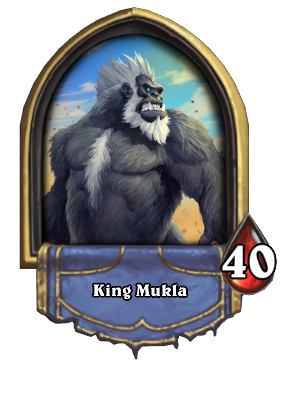 Flavor text
King Mukla has earned respect among his subjects with his clever ideas. It was he that introduced the idea of leaving banana pells on the ground as traps for pirates, a now common practice for the apes of Jaguero Isle.
External links
For other appearances of King Mukla, see King Mukla (disambiguation).
King Mukla is a hero that the player can pick in the Battlegrounds game mode.
Hero Power
Generated cards
[
]
Hero skins
Notes
[
]
There is a 50% chance for King Mukla to receive a Big Banana instead of a regular Banana. This chance is independent for both Bananas.[1] Other players cannot get a Big Banana.
Strategy
[
]
As with other raw stats buffs the King Mukla's Hero Power is better to be used either to get extra benefit from the attack bonus or to give extra survivability for a support minion. The good candidates for the attack bonus are the Cave Hydra and Glyph Guardian as well as any minion with low attack power and intrinsic Divine Shield. The candidates for survavability bonus are the Pack Leader, Scavenging Hyena, Security Rover and Soul Juggler who otherwise may die too early in the combat and not use their power to their full extent.
In the late game bananas can be given to Zapp Slywick to better snipe the enemy minions.
The bonus can also be applied in dire situations to save yourself from certain death. Your opponents get to use their bananas only on the next turn.
Gallery
[
]
Patch changes
[
]
Patch 20.8.0.86601 (2021-07-01): Chance of getting Big Banana increased to 50%. (previously: 33%)
Patch 19.6.0.74257 (2021-02-19): Chance of getting Big Banana increased to 33%. (previously: 20%)
Patch 18.4.2.62331 (2020-10-15): Hero Power now can generate a Big Banana for King Mukla.
Patch 17.6.0.53261 (2020-07-14):

Returned to the pool of heroes.
Hero Power now costs (1) and reads: Get 2 Bananas. At the end of your turn, give everyone else one.

Server-side patch (2019-11-19): Removed from the pool of heroes.
Patch 15.6.2.36393 (2019-11-11): Hero Power now reads: Whenever you buy a Beast, add a Banana to your hand (previously: Whenever you sell a Beast, add a Banana to your hand.)
Patch 15.6.0.35747 (2019-11-05): Added.
References
[
]