Baron Rivendare
1915 • FP1_031
Regular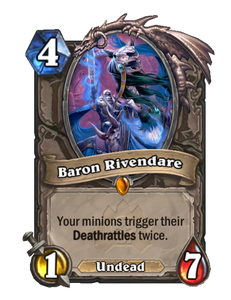 Dimensions:
Full
•
330 x 410px
Golden
Card image missing. Click here to upload.
Your minions trigger their
Deathrattles
twice.
Flavor text
There used to be five Horsemen but one of them left because a job opened up in the deadmines and the benefits were better.
Keywords
AURA
Referenced tags
DEATHRATTLE
Boolean tags
COLLECTIBLE
ELITE
IS_BACON_POOL_MINION
Wiki referenced tags
Deathrattle-related, Ongoing effect
External links
Baron Rivendare is a legendary neutral minion card, from the Naxxramas set.
Other versions
[
]
How to get
[
]
Auto-detected sources

| Type | Source | Premium | Q. |
| --- | --- | --- | --- |
| Adventure | Complete Curse of Naxxramas 3rd wing - The Military Quarter | Regular | 1 |
| Crafting | 1600 dust | Regular | 1 |
| Crafting | 3200 dust | Golden | 1 |
Core set
[
]
Regular and golden Baron Rivendare are uncraftable and cannot be crafted or disenchanted.
Auto-detected sources
Type
Source
Premium
Q.
Leveling
Unlocked at level 41.
Regular
2
Achievement
Great Victory
(Win 5000 games in Ranked, Arena, or Duels.)
Golden
1
Notes
[
]
Rivendare's ability is not duplicated or multiplied by having more than one Baron Rivendare in play.[1]
The second activation of the Deathrattle is immediately after the first activation resolves, before the game moves on to resolving the next on-death trigger or Deathrattle.
Baron Rivendare's effect also works on remotely triggered Deathrattles such as from

Play Dead

.
Baron Rivendare's effect, being an aura, only appears and disappears between Phases when Aura Update (Other) runs, which is just after the Death Processing step. This means that if Baron Rivendare is summoned or stolen mid-Phase he does not start or stop doubling Deathrattles yet.[3][4] However, if he dies at the same time as a minion with a Deathrattle, the Deathrattle is not doubled. For more information on these game processes, see Advanced rulebook.
The two activations of the Deathrattle do not queue/resolve separately. Rather, the Deathrattle queues once, and if it resolves, the effect of the aura makes it activate twice inside of the resolution. For example, if you have Baron Rivendare and an

Unearthed Raptor

with many

Weasel Tunneler

Deathrattles on it, each Deathrattles resolves twice and does not check in between resolutions the fact that the minion's controller has changed (which would normally prevent the deathrattle from resolving).[5]
Strategy
[
]
Standard
[
]

Please add any available information to this section.
Wild
[
]
Just as it seems, Baron Rivendare is intended to use in a Deathrattle focused deck. Cards such as
Feugen and
Stalagg,
Sneed's Old Shredder, and
Silver Vanguard are all minions which work well when paired with Rivendare. Note that Rivendare would also affect cards such as
Play Dead and
Feign Death, which makes it easier to utilize Rivendare's ability without killing off friendly minions. Rivendare also serves as a Soft Taunt, as it provides a bonus with great potential. When playing Rivendare, it should be made sure that it will not be easily removed, or when it can be easily removed, to utilize Rivendare's effect the turn he was played. As Hunter,
Necromechanic is a substitute for Rivendare and is widely considered to be more powerful, as it has 2 more attack and is therefore more favorable when trading.
With 7 health and 1 attack, Rivendare is also a valuable target for
Divine Spirit and
Inner Fire, and can pull off unexpected wins because of the opponent's reluctance to clear Rivendare off the board when its effect cannot take significant impact.
Sounds
[
]
Lore
[
]
For information and artwork for the Four Horsemen, see
Baron Rivendare.
Curse of Naxxramas

[

]
World of Warcraft

[

]

This section uses content from Wowpedia.
Trivia
[
]
Gallery
[
]
Patch changes
[
]
Patch 1.1.0.6141 (2014-07-31): Flavor text has been changed from "Lady Blaumeux is a little hurt that they don't call themselves "The Four Horsepeople."" to "There used to be five Horsemen but one of them left because a job opened up in the deadmines and the benefits were better."
Patch 1.1.0.6024 (2014-07-22): Added.
References
[
]