Banana Buffoon
Banana Buffoon
| | |
| --- | --- |
| Set: | Rastakhan's Rumble |
| Type: | Minion |
| Rarity: | Common |
| Cost: | 3 |
| Attack: | 2 |
| Health: | 2 |
| Abilities: | Battlecry, Generate |
| Tags: | Spell-generating |
| Artist: | Jim Nelson |
Battlecry: Add 2 Bananas to your hand.
You could say he has a certain appeal.

Banana Buffoon is a common neutral minion card, from the Rastakhan's Rumble set.
Banana Buffoon can be obtained through Rastakhan's Rumble card packs, or through crafting.
| Card | Crafting cost | Disenchanting |
| --- | --- | --- |
| Banana Buffoon | 40 | 5 |
| Golden Banana Buffoon | 400 | 50 |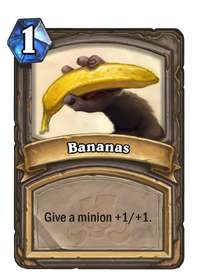 Banana Buffoon is useful in discard decks, because the bananas can serve as discard fodder instead of your more important cards.
The Bananas also fill up your hand, which can improve effects such as Mountain Giant and Ferocious Howl, or in edge cases, to strategically Mill yourself in order to avoid negative Cast When Drawn effects such as Corrupted Blood and Bomb.
It also serves to dramatically speed up Open the Waygate and The Last Kaleidosaur, completing a large portion of both quests on its own.
Cards with "auto trigger buffs" like Paragon of Light, Djinni of Zephyrs, Dragonkin Sorcerer are good targets for Bananas.
This hozen is the "small friend" of King Mukla. Unlike Mukla, he has learned to give bananas to himself rather than to opponents.[1]