GTA: The Criminal Enterprises - The Loop
Play Sound
Baku the Mooneater
48158 • GIL_826
Regular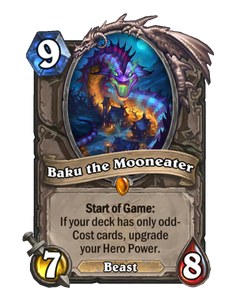 Dimensions:
Full
•
330 x 410px
Golden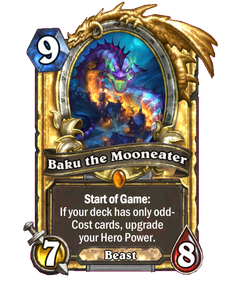 Dimensions:
Full
•
330 x 410px
Start of Game:
If your deck has only odd- Cost cards, upgrade your Hero Power.
Flavor text
In her defense, it did look like a cookie.
Keywords
START_OF_GAME
Full tags
CLASS=12 COLLECTIBLE=1 RARITY=5 CARDTYPE=4 COST=9 ATK=7 HEALTH=8 ELITE=1 CARDRACE=20 COLLECTIONMANAGER_FILTER_MANA_ODD=1 START_OF_GAME=1
Wiki tags
Replace Hero Power, Start of Game
Wiki referenced tags
Cost-related, Hero Power-related, In-deck effect
Exclusions
Duels deck-building
External links
Baku the Mooneater is a legendary neutral minion card, from The Witchwood set. It was once in the Hall of Fame set from April 4, 2019 to March 30, 2021.
How to get
[
]
Auto-detected sources

| Type | Source | Premium | Q. |
| --- | --- | --- | --- |
| Card packs | | Regular, Golden | 1 |
| Crafting | 1600 dust | Regular | 1 |
| Crafting | 3200 dust | Golden | 1 |
Generated Hero Powers
[
]
Notes
[
]
Strategy
[
]
Baku provides a very powerful bonus from the start of the game, at the cost of seriously hurting your deck building. Many staple cards cannot be used with Baku. However, it's possible to substitute cards with otherwise worse versions. For example,
Gluttonous Ooze can be used instead of
Acidic Swamp Ooze and
Ironbeak Owl can be used instead of
Spellbreaker.
One of the notable downsides of Baku the Mooneater is having to put Baku herself into your deck. As a vanilla 7/8 for 9 mana, Baku is essentially a dead draw, especially so for the more aggressive decks that many of the upgraded Hero Powers support.
Baku's strategy is wildly different for each class.
Demon's Bite

allows you to put on high pressure each turn, dealing 2 damage for only one mana. It also pairs incredibly well with

Aldrachi Warblades

and

Flamereaper

, enhancing their effects doubly over

Demon Claws

. Demon Hunter has access to a few attack-based odd minions, like

Battlefiend

and

Satyr Overseer

, as well as the neutral

Hench-Clan Thug

. The main weakness of Demon Hunters is their lower card pool than the other classes, requiring them to use more neutral cards. They also have to give up some of their most powerful card draw like

Skull of Gul'dan

and

Spectral Sight

.

Dire Shapeshift

is a flexible ability, letting you either effectively gain armor or chip away at enemies. It has the dedicated support,

Gloom Stag

, which allows for a strong Taunt backbone. It synergizes well with

Gonk, the Raptor

, giving you more damage to work with at any time.

Ballista Shot

puts on a huge amount of pressure each turn, allowing Face Hunter decks to focus hard on the opponent. This is supported by odd-cost cards like

Wolfrider

and

Animal Companion

. It also has high synergy with

Defend the Dwarven District

decks, allowing for an even higher damage output with each hero power use; low-cost spells such as Rapid Fire and

On the Hunt

which complete the questline quickly are also available.

Fireblast Rank 2

allows for high value trading and applying pressure to your opponent.

Black Cat

is a great support card for this deck. This favours Tempo and

Value

decks. Additionally, many strong Elementals are odd (including

Frost Lich Jaina

), allowing for an Elemental backbone.

Jan'alai, the Dragonhawk

works perfectly with this power, since it only takes 4 hero powers to trigger his effect.

The Silver Hand

generates multiple minions each turn, which is invaluable for Aggro Paladin. While they lose out on board-wide buffs like

Level Up!

and

Sunkeeper Tarim

and all 2-drops, they make up for this with the sheer number of Silver Hand Recruits and

Divine Favor

and

Unidentified Maul

— all of which help aggro Paladin's strategy. Several Silver Hand synergy cards are also odd-costed, such as

Warhorse Trainer

,

Quartermaster

,

Muster for Battle

and

Steward of Darkshire

.

Heal

is a powerful value Hero Power, capable of keeping minions and yourself topped off. It works very well with

Quartz Elemental

, easily keeping it swinging. While Priest has access to

Glitter Moth

, that card is generally unimportant for what a Baku deck requires.

Raza the Chained

further increases the utility by allowing the substantial heal to be used free of charge, though coming with additional deck restrictions, and missing out on

Reno Jackson

,

Kazakus

and

Zephrys the Great

.

Poisoned Daggers

is incredibly efficient in the early game, making the first few turns incredibly powerful. It is a strong fit in Tempo Rogue, which keeps many of its staple tempo cards like

Hench-Clan Thug

and

Vilespine Slayer

.

Totemic Slam

gives the Shaman's Hero Power more flexibility, giving a guaranteed

Strength Totem

or

Stoneclaw Totem

whenever it is needed, and with

Totemic Reflection

,

Primal Fusion

and

Thunder Bluff Valiant

, one can build up a veritable army of Healing Totems. However, Totemic Slam's increased power comes much more situationally than other upgraded hero powers, and odd decks will lose many powerful cards such as

Hex

,

Devolve

and

Totem Golem

, mounting the Shaman with a harsh deck-building restriction. The removal of Wrath of Air Totem also greatly hurts the utility of this effect.

Soul Tap

is only a marginal improvement over

Life Tap

, especially since Warlock has access to plenty of healing. The sacrifices needed for it aren't worth the benefit.

Tank Up!

is a strong bulking tool, especially when you can begin the extra armor immediately. Many of Warrior's best cards are odd, such as

Brawl

,

Shield Block

, and

Shield Slam

. You can also use

Fire Plume's Heart

with Baku, which works well with the large number of strong odd-cost Taunts. Warrior also has decent substitutions, such as

Fiery War Axe

instead of

Blood Razor

. Also effective in Mech decks, where it keeps its core cards like

Eternium Rover

,

Omega Assembly

,

Dyn-o-matic

, and

Dr. Boom, Mad Genius

.
Quotes
[
]
Play
Trigger
Attack
Death
Lore
[
]
The Witchwood's growing influence drives even the redoubtable citizens of Gilneas to fearful flights of fancy. Uneasy townsfolk share bizarre stories of black cats with knowing eyes, and giant moths that peer into windows during the dead of night. Stranger still, they all seem to share the same horrid dream, night after night: a feeling of unspeakable dread as they watch huge, spectral fangs devour the moon.[5]
Baku is unique to Hearthstone. According to Mike Donais: "Hagatha, the witch of the Witchwood awakened the trees and beasts of the woods making them stronger and angrier. Baku the Mooneater is the great worm that is basically her General."[6] Baku has apparently devoured the White Lady, the larger of Azeroth's two moons, leaving only the Blue Child.[7]
No being akin to Baku exists in any our exhaustive records that describe serpents, dragonhawks, dragons, or other scaled, magical creatures. Given that this being has not been seen physically by anyone at all—instead observed solely via shared dream visions—our duty to investigate her nature is clear.
Our arcanists' initial hypothesis is that Baku may in fact be the tormented psyche of a dragon whose physical form is trapped within the bounds of the Witchwood, but outside of physical reality—some kind of dream-dwelling projection of this dragon's mind, warped and twisted by Hagatha's own nightmares.
Whatever the Mooneater's true nature, those who dream of her tend to slowly descend into a fugue state—neither waking nor dreaming—and develop the ability to manifest their will in surprising ways. In brief moments of lucidity, these subjects express a feeling of crushing, unyielding dread, and report seeing a kaleidoscopic serpent coiling and stretching across the horizon, blotting out the sky overhead.[8]
Baku is similar in appearance to a sea serpent. The closest habitat to Gilneas that would contain them would be the Kelp'thar Forest.

This section uses content from Wowpedia.
Sea serpents are large serpents living in the seas of Azeroth. The sea serpents made their first appearance in World of Warcraft: Cataclysm in the Kelp'thar Forest of Vashj'ir. They shouldn't be confused with the gigantic eels that also roam the areas.
Trivia
[
]
Gallery
[
]
Patch changes
[
]
Commentary: Baku and Genn are powerful cards that have promoted new strategies since their introduction in the metagame. Those strategies have been more prevalent than we'd intended in Standard, and we felt that they might end up overshadowing what we're going to introduce in the Year of the Dragon. In order for set rotation to breathe new life into Standard and maintain overall health of the ladder, we are rotating Baku and Genn into the Hall of Fame a year earlier than normal.
References
[
]