Baited Arrow
Baited Arrow
Deal 3 damage. Overkill: Summon a 5/5 Devilsaur.
The card is common, but the steak is rare.

Baited Arrow is a common hunter spell card, from the Rastakhan's Rumble set.
Baited Arrow can be obtained through Rastakhan's Rumble card packs, or through crafting.
| Card | Crafting cost | Disenchanting |
| --- | --- | --- |
| Baited Arrow | 40 | 5 |
| Golden Baited Arrow | 400 | 50 |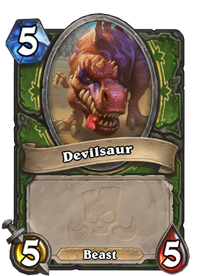 The actual effect of Baited Arrow is similar to Bane of Doom, but can deal 3 damage for lethal or emergency.
Compare to Flanking Strike, 5 mana 5/5 dealing 2 damage along with a significant Beast synergy, is overpowered enough, far over the cost that there may be no good target sometimes.
As a Hunter spell, Baited Arrow is a good option for Spell Hunter, but its high cost discourages aggro decks having it.
During development, the Devilsaur summoned by Baited Arrow was originally a 6/6 minion. It was changed to a 5/5 during playtesting.[1]