Awaken!
Awaken! is a common warrior spell card, from the Descent of Dragons set.
Awaken! can be obtained through Descent of Dragons card packs, or through crafting.
| Card | Crafting cost | Disenchanting |
| --- | --- | --- |
| Awaken! | 40 | 5 |
| Golden Awaken! | 400 | 50 |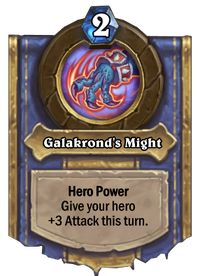 While this card looks expensive for its effect at a quick glance, note that the Invoke will give your hero +3 Attack, which makes this card effectively like Swipe. It has similar applications as Death's Bite and Blood Razor as a way to deal small AoE damage plus some single-target damage, although you can't store it. Regardless, any Galakrond deck will benefit from the Invoke.
This card makes a great late-game combo with Plague of Wrath, letting you destroy all minions and giving you 3 damage to spend, either on the opponent's face or to mop up a Divine Shield minion or a token summoned by a Deathrattle.