See also Cards by Attack
Attack is how much damage a card can do. It is represented with a number in a card´s lower left zone, over the attack icon.
Application of Attack
A card´s attack is applied by subtracting it over the objective card´s health. However, if the objective card has armor, the armor´s value must be added to the health when dealing damage. Also remember that when a card with both attack and health (unlike spells), both the attacker and the defender cards exchange damage.
Ancient Brewmaster to Gelbin Mekkatorque: 6 health - 5 attack = 1 health ->Alive

Gelbin Mekkatorque to Ancient Brewmaster: 4 health - 6 attack = -2 health ->Destroyed

Cards that lower attack
To date only one card lowers the attack of any minions on the board (

Paladin):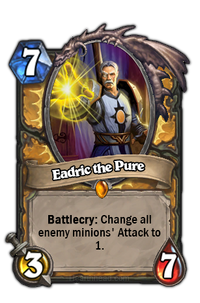 Community content is available under
CC-BY-SA
unless otherwise noted.