Atiesh
After you cast a spell, summon a random minion of that Cost. Lose 1 Durability.
External links
Atiesh is an uncollectible weapon card, created by Medivh, the Guardian, from the One Night in Karazhan set.
For more information, see Medivh, the Guardian.
Strategy
[
]
One thing worth noting is that the minion summoned is based on the USED mana cost of the spell, not the base cost. So a 10-mana spell which is cast for 0 mana results in a 0 mana minion being summoned.
This means regardless of how good the spell is, it's better to have it be a higher mana cost to use the staff later in the game to summon a better minion.
This is an important consideration especially with dice which can cause spells to cost largely different mana amounts.
Equipped by
[
]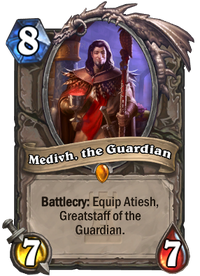 Lore
[
]

This section uses content from Wowpedia.
Gallery
[
]
Patch changes
[
]