For other representations of Uther, see Uther Lightbringer (disambiguation).
Ascended Uther is an alternate hero for the

Paladin class.
How to get
[
]
Ascended Uther can be purchased through Shadowlands Bundle, which also contains Ember Court Illidan, Winter Fury Malfurion, and House of Rituals Gul'dan and lasts from September 21 to October 12, 2021.[1]
| USD | EUR | GBP | AUD |
| --- | --- | --- | --- |
| $24.99 | €24.99 | £ | $ |
Functionality
[
]
Once unlocked and selected for use, Ascended Uther replaces Uther Lightbringer whenever the player uses a Paladin deck, as well as:
Comes with own portrait
Has custom emotes
For more information, see Alternate heroes.
Flavor text
[
]
When viewed in the Collection, Ascended Uther has the following flavor text:
Some people just don't have much luck in life - or even the afterlife.
Obtained by purchasing the Shadowlands bundle.
Sounds
[
]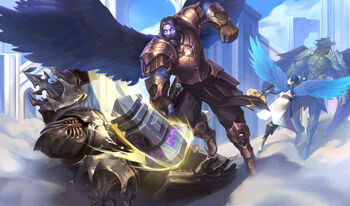 Each hero has their own selection of audio and written emotes that are produced in response to specific events. For more information, see Emote.
Most of Ascended Uther's sounds are the same as Uther Lightbringer. Unique, different ones are noted as Unique in References section.
| Type | Transcript |
| --- | --- |
| Attack [1] | Link▶️For the Ascended![2] |
| Death [1] | Link▶️<Death> |
| Concede | Link▶️The victory is yours. |
| Emote: Greetings | Link▶️Duty and service.[2] |
| Almost out of cards | Link▶️I'm almost out of cards! |
| Out of cards | Link▶️I'm out of cards! |
| Emote: Oops | Link▶️Everyone stumbles sometimes.[2] |
| Unused: Sorry | Link▶️I am sorry. |
| Start | Link▶️Can there truly be no vengeance in justice?[2] |
| Emote: Thanks | Link▶️You honor me.[2] |
| Thinking [1] | Link▶️Hmmm... |
| Thinking [2] | Link▶️I wonder... |
| Thinking [3] | Link▶️Let me think... |
| Emote: Threaten | Link▶️You further my torment at your own peril.[2] |
| Running out of time | Link▶️I must move quickly! |
| Emote: Well Played | Link▶️You could almost be an Aspirant… Almost.[2] |
| Error: Too many minions | Link▶️I have too many minions. |
| Error: Generic | Link▶️I can't do that. |
| Error: Hand already full | Link▶️My hand is too full! |
| Error: Hero already attacked | Link▶️I already attacked. |
| Error: Minion not ready | Link▶️Give that minion a turn to get ready. |
| Error: Minion exhausted | Link▶️That minion already attacked. |
| Error: Not enough mana | Link▶️I don't have enough Mana. |
| Error: Need a weapon | Link▶️I need a weapon. |
| Error: Can't play that card | Link▶️I can't play that. |
| Error: Can't target Stealthed minion | Link▶️I can't target Stealthed minions. |
| Error: Not a valid target | Link▶️That's not a valid target. |
| Error: Must attack Taunt minion | Link▶️A minion with Taunt is in the way. |
| Selection in Choose Your Hero | Link▶️It is a hard lesson to learn.[2] |
| Emote: Greetings [Lunar New Year] | Link▶️Happy New Year, Champion! |
| Start [Mirror] | Link▶️It is a hard lesson to learn.[2] |
| Emote: Greetings [Holidays] | Link▶️Happy Feast of Winter Veil, champion! |
| Emote: Wow | Link▶️There are no words![2] |
| Emote: Greetings [Happy New Year] | Link▶️Happy New Year, Champion! |
| Emote: Greetings [Fire Festival] | Link▶️Happy Midsummer Fire Festival! |
| Unused: Greetings [Pirate Day] | Link▶️Avast, ya scurvy scallywags! |
| Emote: Greetings [Happy Halloween] | Link▶️Happy Hallow's End, Champion! |
| Unused: Greetings [Happy Noblegarden] | Link▶️Happy Noblegarden, Champion! |
| Emote: Greetings [Mirror] | Link▶️So it has always been.[2] |
Patch changes
[
]
References
[
]