Armadillobot
Regular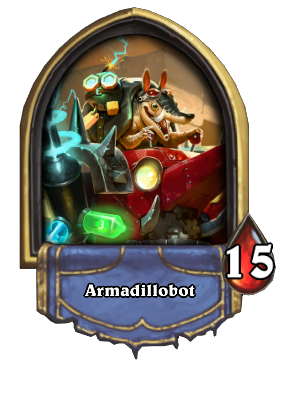 Gold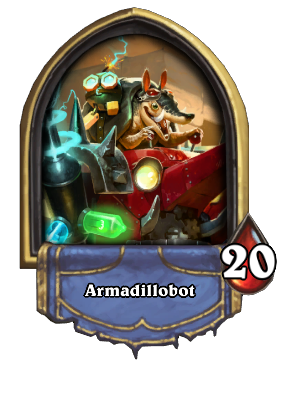 Flavor text
Is it insane to let a critter pilot a mech? Dr. Boom thinks not.
External links
Armadillobot is a boss that can be encountered initially in Chapter 4 of Tombs of Terror. After completing Chapter 4, this boss encounter will be available in any completed chapter.
Hero Powers
[
]
Normal
Heroic
Decks
[
]
The below classes are listed purely for reference, and have no effect on the boss' use of the cards during the battle.
Strategy
[
]
Armadillobot's hero power is a weaker, yet simular version of Dr. Boom, Mad Genius's Battlecry or Rattlegore's No Guts, No Glory, and the boss uses it quite rarely. The only minions that have major value from Mech "Pilot" are Vicious Scraphound and Eternium Rover on Normal and Heroic difficulty respectively. Since Armadillobot does not have Magnetic, healing, and lack of tools to survive for long, it is better to do not distract for trades and just rush to the enemy Hero.
Dialogue
[
]
Introduction
Armadillobot

EuUUHuuu, Ha-HaHa-HAAAA!
Emote Response
Armadillobot

Gwaaaaah! Ha heehee!
Death
Armadillobot

ARREEEeeeoouuu...
Defeat
Armadillobot

Ga grhouuuu! Nyaaahehe!
Lore
[
]
Armadillobot is unique to Hearthstone. It belongs to League of E.V.I.L.
Gallery
[
]
Patch changes
[
]
Tombs of Terror
Heroes
Chapter 1:
The Lost City

| | |
| --- | --- |
| Level 1 | |
| Level 2 | |
| Level 3 | |
| Level 4 | |
| Level 5 | |
| Level 6 | |
| Level 7 | |
| Level 8 | |

Chapter 2:
Scorching Dunes

| | |
| --- | --- |
| Level 1 | |
| Level 2 | |
| Level 3 | |
| Level 4 | |
| Level 5 | |
| Level 6 | |
| Level 7 | |
| Level 8 | |

Chapter 3:
Khartut's Tomb

| | |
| --- | --- |
| Level 1 | |
| Level 2 | |
| Level 3 | |
| Level 4 | |
| Level 5 | |
| Level 6 | |
| Level 7 | |
| Level 8 | |

Chapter 4:
Halls of Origination

| | |
| --- | --- |
| Level 1 | |
| Level 2 | |
| Level 3 | |
| Level 4 | |
| Level 5 | |
| Level 6 | |
| Level 7 | |
| Level 8 | |

Chapter 5:
The Inner Sanctum
Tavern