Arcanotron
Arcanotron
| | |
| --- | --- |
| Set: | Blackrock Mountain |
| Type: | Minion |
| Minion type: | Mech |
| Rarity: | Legendary |
| Cost: | 0 |
| Attack: | 2 |
| Health: | 2 |
| Abilities: | Spell Damage |
| Tags: | Ongoing effect |
| Artist: | Arthur Gimaldinov |
Both players have Spell Damage +2.
Arcanotron is a boss minion used by Omnotron Defense System in Blackrock Mountain, summoned by Activate Arcanotron (Heroic). It is not available to players.
For more information, see Omnotron Defense System.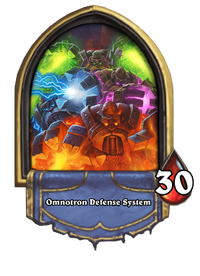 Summoning

Arcanotron boot sequence: complete.
Attack

Boot sequence: to the head.
Death

Powering down...