Arcanosmith
Arcanosmith
| | |
| --- | --- |
| Set: | One Night in Karazhan |
| Type: | Minion |
| Rarity: | Common |
| Cost: | 4 |
| Attack: | 3 |
| Health: | 2 |
| Abilities: | Battlecry, Summon |
| Tags: | Taunt-generating |
| Artist: | Anton Zemskov |
Battlecry: Summon a 0/5 minion with Taunt.
He's really just a Blacksmith, but he thought the fancy title would bring in more business.
Arcanosmith is a common neutral minion card, from the One Night in Karazhan set.
Two copies of regular Arcanosmith are obtained by completing The Parlor, the first wing of One Night in Karazhan.
As a Wild format card, both regular and golden versions of Arcanosmith can also be crafted for the following amounts:
| Card | Crafting cost | Disenchanting |
| --- | --- | --- |
| Arcanosmith | 40 | 5 |
| Golden Arcanosmith | 400 | 50 |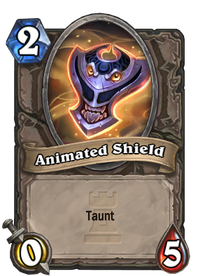 Arcanosmith is much like Sen'jin Shieldmasta, but split into two minions. Rogues can use Gang Up to get several low-cost, relatively high-Health Taunts to protect themselves, and Shamans can use Evolve or Master of Evolution to get a 3-drop and 5-drop.
Summon

A glorious invention.
Attack

Fantabulous!