Arbor Up
Arbor Up is a rare druid spell card, from the Darkmoon Races mini-set.
Arbor Up can be obtained through Madness at the Darkmoon Faire card packs, through crafting, or as an Arena reward. Regular Arbor Up can also be obtained through the Highest Rank Bonus chest at the end of a Ranked season.
| Card | Crafting cost | Disenchanting |
| --- | --- | --- |
| Arbor Up | 100 | 20 |
| Golden Arbor Up | 800 | 100 |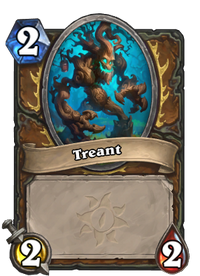 A very powerful token generating and buffing spell. In addition to providing 8/6 in stats by itself, Arbor Up makes token boards more resilient to board clears and grants a permanent attack buff. It can be used as a finisher with a sufficiently large board. Even in an emergency, the two 4/3 minions are decent for 5 mana, comparable to Force of Nature.
There are 2 achievements related to Arbor Up.