Arathi Weaponsmith (Classic)
Arathi Weaponsmith
| | |
| --- | --- |
| Set: | Classic |
| Type: | Minion |
| Class: | Warrior |
| Rarity: | Common |
| Cost: | 4 |
| Attack: | 3 |
| Health: | 3 |
| Abilities: | Battlecry, Equip |
| Tags: | Weapon-generating |
| Artist: | Samwise Didier |
| Voice actor: | Lani Minella |
Battlecry: Equip a 2/2 weapon.
50% off fist weapons, limited time only!
See this card on PlayHearthstone
This is the Classic format version of Arathi Weaponsmith, a common warrior minion card.
For more information, see the original version.
Arathi Weaponsmith (Classic) is associated with its original version. If you own any copies of it, you can also use them in Classic format.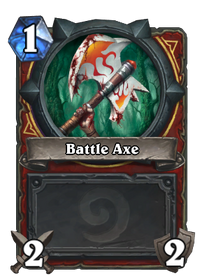 Note: This section contains strategies that are only relevant to the Classic format.

Please add any available information to this section.