Anetheron
Regular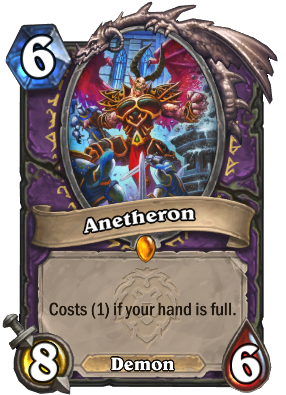 Gold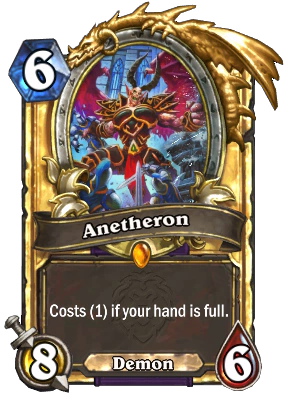 Costs (1) if your hand is full.
Flavor text
Leads every demonic invasion. Hopefully this one turns out better than the World Tree.
External links
Anetheron is a legendary warlock minion card, from the United in Stormwind set.
How to get
[
]
Anetheron can be obtained by:
Notes
[
]
Strategy
[
]
Anetheron has overstatted stats for its 6 mana cost. Even if your hand is not full, it is still overstatted 6 mana 8/6.
Anetheron is best used in Hand Warlock decks in where you would want to have a full hand to make use of significantly reduce cost to 1 early game which makes it difficult to clear. If not left, it can be easily amplified by a surprise Battleground Battlemaster to deal 16 damage early in the game. Should you have Giants in your hand, always play Anetheron first and then Giants as Anetheron conditions are much stricter than giants.
To play Anetheron early, Life Tap as much as possible as well in early turns.
Raise Dead can easily create multiple Anetheron as they die in addition to filling out your hand to the maximum making the 1 mana cost requirement much easier.
It is also a good demon to be resurrected by Bloodreaver Guldan due to having great stats.
Sounds
[
]
Summon
Attack
Death
Lore
[
]

This section uses content from Wowpedia.
Anetheron is a nathrezim best known for his participation during the Battle of Mount Hyjal.
In Hearthstone, Anetheron is one of the central characters of Mercenaries story who was summoned by Tamsin Roame through The Demon Seed as a means of her revenge. Kurtrus Ashfallen, who heard the news of her summoning his rival enemy Anetheron, left the Illidari alone and embark on a journey with other Alliance characters to stop her and the demon.
Gallery
[
]
Patch changes
[
]
References
[
]