Ancient Shieldbearer
Ancient Shieldbearer
| | |
| --- | --- |
| Set: | Whispers of the Old Gods |
| Type: | Minion |
| Class: | Warrior |
| Rarity: | Rare |
| Cost: | 7 |
| Attack: | 6 |
| Health: | 6 |
| Abilities: | Battlecry, Gain Armor |
| Tags: | Attack-related, C'Thun-related |
| Artist: | Alex Konstad |
| Voice actor: | Lani Minella |
Battlecry: If your C'Thun has at least 10 Attack, gain 10 Armor.
Back in her day, each shield weighed two tons and she had to carry four of them on each arm!
Ancient Shieldbearer is a rare warrior minion card, from the Whispers of the Old Gods set.
Ancient Shieldbearer can be obtained through Whispers of the Old Gods card packs, or through crafting.
| Card | Crafting cost | Disenchanting |
| --- | --- | --- |
| Ancient Shieldbearer | 100 | 20 |
| Golden Ancient Shieldbearer | 800 | 100 |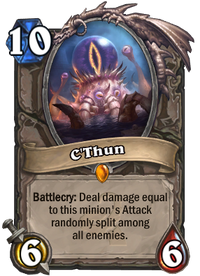 Ancient Shieldbearer's Battlecry can activate whether C'Thun is in the hand, deck, or battlefield, or even already dead.[1]
This card's Battlecry takes into account buffs such as Abusive Sergeant when deciding whether to activate.[2]
This is a more powerful Shieldmaiden for a C'Thun deck.
This minion's Battlecry requires at least +4 Attack to have been granted to C'Thun in order to activate.
Summon

C'Thun shelters us!
Attack

Taste my shield!
Bearing ancient shields probably sounds like a boring job, but Ancient Shieldbearer picked it up quick and hasn't put it down since. Though, in fairness, she probably can't put it down. Ever. Having an eyeball shield permanently fused into your flesh is sure to make finding a comfy sleeping position difficult, but it's a small price to pay for such eye-catching protection! C'Thun has an eye for safety equipment. And style.[5]