Anarii Duskgrove
Regular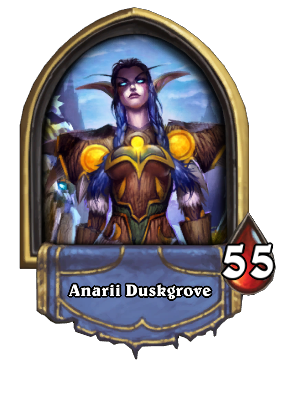 Gold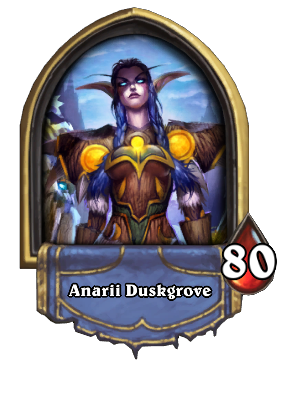 Flavor text
This druid speaks for the trees, and they have nothing nice to say.
External links
Anarii Duskgrove is a boss that can be encountered in The Dalaran Heist adventure.
Hero Power
[
]
| Normal | Heroic |
| --- | --- |
| | |
Summoned minions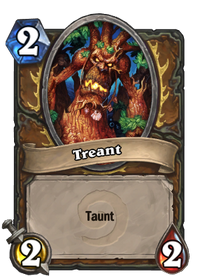 Special cards
[
]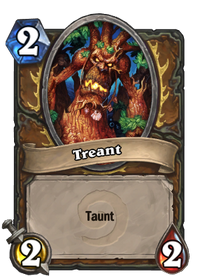 Decks
[
]
The below classes are listed purely for reference, and have no effect on the boss' use of the cards during the battle.
Strategy
[
]
With powerful removal and treants that taunt, Anarii will attempt to gain control of the board. Should that happen and you don't have an answer, you have lost.
Dialogue
[
]
Before match
Swampqueen Hagatha

This druid hero shapes trees into weapons. I hate her... but I understand her.
Introduction
Anarii Duskgrove

I guess we will have to do it ourselves.
Emote Response
Anarii Duskgrove

If a fool speaks in a forest, does anyone hear it?
Hero Power
Anarii Duskgrove

Nature stands by my side.
Rise, my beautiful trees.
We shall block your path!
We shall make mulch out of you.
With deep roots, we will stand firm.
You will not get through us!
Idle
Anarii Duskgrove

Are you stumped?
Magic makes the best fertilizer.
What's wrong? Scared of some trees?
Why, yes. They are all bark, AND bite.
Boss cards
Anarii Duskgrove

Soul of the Forest

You can knock them down... but they will be back.

Force of Nature

My protectors brought some friends...

Treespeaker

Make my treants grow!
Player's cards
Anarii Duskgrove

Treant

Nature is not yours to toy with.

Naturalize

Nature against nature. Most unfortunate.

Sap

That's no sap I've ever seen...

Flamestrike

Go ahead, burn them. More will come!
Death
Anarii Duskgrove

(yell)
Defeat
Anarii Duskgrove

Beaten by a lone night elf... and her army of treants.
Lore
[
]
Gallery
[
]
Patch changes
[
]
The Dalaran Heist
Heroes
Chapter 1: Dalaran Bank

| | |
| --- | --- |
| Level 1 | |
| Level 2 | |
| Level 3 | |
| Level 4 | |
| Level 5 | |
| Level 6 | |
| Level 7 | |
| Level 8 | |

Chapter 2: The Violet Hold

| | |
| --- | --- |
| Level 1 | |
| Level 2 | |
| Level 3 | |
| Level 4 | |
| Level 5 | |
| Level 6 | |
| Level 7 | |
| Level 8 | |

Chapter 3: Streets of Dalaran

| | |
| --- | --- |
| Level 1 | |
| Level 2 | |
| Level 3 | |
| Level 4 | |
| Level 5 | |
| Level 6 | |
| Level 7 | |
| Level 8 | |

Chapter 4: The Underbelly

| | |
| --- | --- |
| Level 1 | |
| Level 2 | |
| Level 3 | |
| Level 4 | |
| Level 5 | |
| Level 6 | |
| Level 7 | |
| Level 8 | |

Chapter 5: Kirin Tor Citadel

| | |
| --- | --- |
| Level 1 | |
| Level 2 | |
| Level 3 | |
| Level 4 | |
| Level 5 | |
| Level 6 | |
| Level 7 | |
| Level 8 | |
| Level 9 | |
| Level 10 | |
| Level 11 | |
| Level 12 | |

Tavern