Alterac Thrall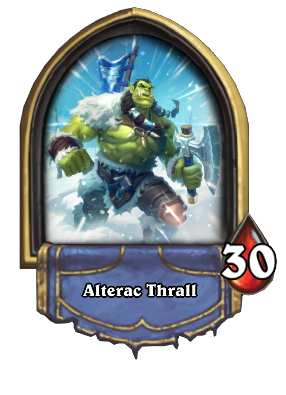 For other appearances of Thrall, see Thrall (disambiguation).
Alterac Thrall is an alternate hero for the

Shaman class in Hearthstone.
Alterac Thrall is available for players that bought the Tavern Pass and reach level 30 in the Rewards Track.
Once unlocked and selected for use, Alterac Thrall is used as the hero whenever playing with a shaman deck. Thrall, Son of Durotan comes with his own portrait and features a animated Hero Power.
For more information, see Alternate heroes.
When viewed in the collection, Alterac Thrall has the following flavor text:
After significant practice, Thrall mastered the elements sufficiently to walk through a snowstorm without a shirt. Earnable after purchasing the Tavern Pass.
Each hero has their own selection of audio and written emotes that are produced in response to specific events. For more information, see Emote.
Alterac Thrall uses some of the same quotes as Thrall. Only different emotes are listed. For a full list, see Thrall#Emotes.
| Type | Emote |
| --- | --- |
| Thanks | The Frostwolves thank you. |
| Well played | I see your valor. |
| Greetings | The spirits are restless. |
| Mirror Greetings | Then so am I. |
| Wow | Blessed ancestors! |
| Oops | A grave error. |
| Threaten | The Earth will claim you. |
| Attack | Shiver in fear! |
| Opening remark | Face the might of the Frostwolves! |
| Mirror start | Our clan has never faltered! |
| Selection in Arena | I will defend the valley at any cost. |