Alleycat
Alleycat
See other versions: BG Regular and BG Gold
Set:
Mean Streets of Gadgetzan
Type:
Minion
Minion type:
Beast
Class:
Hunter
Rarity:

Common

Cost:
1
Attack:
1
Health:
1
Abilities:
Battlecry, Summon
Tags:
Beast-generating
Artist:
Anton Zemskov
Battlecry: Summon a 1/1 Cat.
To be a cool cat in Gadgetzan, you gotta have bling.
See this card on PlayHearthstone

Alleycat is a common hunter minion card, from the Mean Streets of Gadgetzan set.
Alleycat can be obtained through Mean Streets of Gadgetzan card packs, or through crafting.
| Card | Crafting cost | Disenchanting |
| --- | --- | --- |
| Alleycat | 40 | 5 |
| Golden Alleycat | 400 | 50 |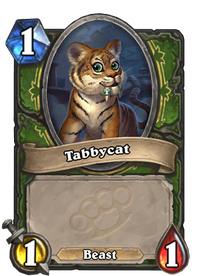 Summoning two 1/1 minions on turn 1 makes for a good start in an aggressive Hunter deck. Since both summoned minions are Beasts, this opening also enables various synergies.
The low Health of the summoned minions makes this vulnerable to AoE effects, but most classes do not have access to those spells in the early game; by the time they can clear the board they will already be struggling for survival.
Alleycat is strictly worse than Wolpertinger, as Wolpertinger is identical but can pass in-hand buffs onto its summoned copy. However, decks that don't use buffs can simply run either.