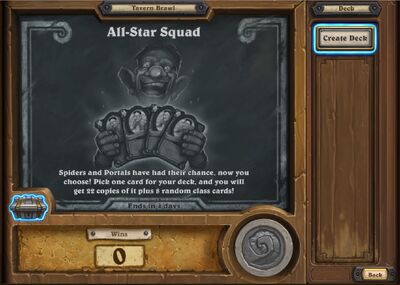 All-Star Squad is a Tavern Brawl. It debuted on October 12, 2016.
History
[
]
Tavern Brawl
Start
End
Notes
70
October 12, 2016
October 17, 2016
107
June 28, 2017
July 3, 2017
243
February 5, 2020
February 12, 2020
Used only Standard format cards
295
February 3, 2021
February 10, 2021
326
September 8, 2021
September 15, 2021
Overview
[
]
This Tavern Brawl sees players doing battle with custom decks composed of 22 copies of one card chosen by the player, plus 8 randomly chosen class cards from the selected class.
Notes
[
]
If Prince Malchezaar is chosen for the player's deck, his effect will shuffle 33 (if going first) or 34 (if going second) random legendaries into the player's deck, rather than the usual 5. (The 22 Malchezaars should generate 110 cards in total, but the number is limited by the 60-card deck size limit.) The same is true for C'Thun, the Shattered and his body parts.
Strategy
[
]
This Tavern Brawl is essentially "Top 1" with a few random class cards stuck in. It is similar to, but not the same as, the Tavern Brawl formats of Top 2 and Top 3. Strategy mainly revolves around a single card, with the 8 other randomly-generated cards acting as random filler cards that should not see much play.
As per usual, aggressive plays are likely to be the most successful, so your chosen card needs to end the game quickly or defend against a specific aggro strategy.
Tier 1
These decks are for people who only care about winning.
Tech
These decks primarily counter Tier 1 decks.
For fun
Many of these borrow ideas from previous Tavern Brawls featuring one card, with a few new additions.
Wild
These decks can only be used in Wild versions of this brawl.
Trivia
[
]
The character in this Brawl's art is holding four copies of Leper Gnome, and in fact appears to be the very gnome depicted in that card's art.
| | Tavern Brawls |
| --- | --- |
| Constructed | |
| Randomized | |
| Premade | |
| Brawliseum | |
| Cooperative | |
| Single-player | |
| Fireside Brawls | |