Air Elemental
Regular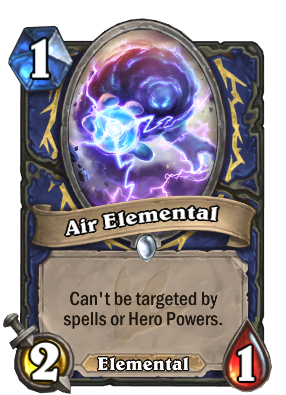 Gold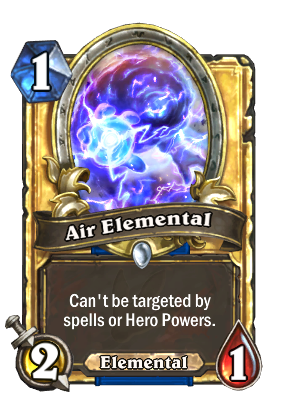 Can't be targeted by spells or Hero Powers.
Flavor text
Makes a mean puff pastry.
External links
Air Elemental is a common shaman minion card, from the Journey to Un'Goro set.
How to get
Strategy
As an Elusive 2/1 for 1 mana, Air Elemental can be played on turn one to threaten early 2 health 2 mana minions, without the drawback of being vulnerable to single damage pings such as Fireblast or Mortal Coil. However, keep in mind that its Elusive ability doesn't protect it from Shapeshift or Dagger Mastery.
If not drawn early, Air Elemental can serve a secondary function as a cheap way to trigger Elemental synergy throughout the game.
Lore
Gallery
Patch changes