Adept Kurtrus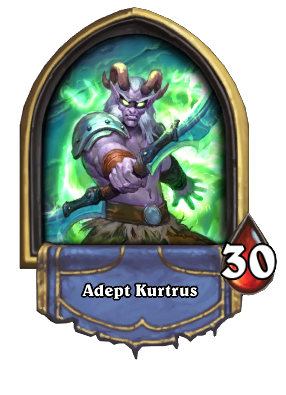 For other representations of Kurtrus, see Kurtrus Ashfallen (disambiguation).
Adept Kurtrus is an alternate hero for the

Demon Hunter class.
This is one of Kurtrus' appearances.
Adept Kurtrus is obtained by purchasing the Tavern Pass and reaching level 60 in the Forged in the Barrens' Rewards Track.
Once unlocked and selected for use, Adept Kurtrus replaces Illidan Stormrage whenever playing with a Demon Hunter deck, as well as:
Comes with his own portrait
Has custom emotes
For more information, see Alternate heroes.
When viewed in the Collection, Adept Kurtrus has the following flavor text:
If you worked as hard as he did to upgrade those warglaives, you'd show them off too!
Earnable after purchasing the Tavern Pass.
Each hero has their own selection of audio and written emotes that are produced in response to specific events. For more information, see Emote.
Most of Adept Kurtrus's sounds are the same as Initiate Kurtrus. Unique, different ones are noted as Unique in References section.
| Type | Transcript |
| --- | --- |
| Trigger: Chaos Nova | Link▶️Total chaos! |
| Trigger: Coordinated Strike | Link▶️Join me and fight! |
| Trigger: Feast of Souls | Link▶️War has much to teach us. |
| Trigger: Fury(Rank 1, 2, 3) | Link▶️<Roar of rage> |
| Trigger: Inner Demon | Link▶️At any cost! |
| Trigger: Metamorphosis | Link▶️I have nothing left but this power! |
| Trigger: Skull of Gul'dan | Link▶️Warlocks…all the same. |
| Trigger: Spectral Sight | Link▶️I'll never stop searching. |
| Attack [1] | Link▶️Strike fast![1] |
| Attack [2] | Link▶️<Attack exertion> |
| Death [1] | Link▶️<Death> |
| Emote: Greetings | Link▶️I see you.[1] |
| Emote: Well Played | Link▶️Our fight will live in memory.[1] |
| Emote: Oops | Link▶️How inconvenient.[1] |
| Emote: Threaten | Link▶️Step aside and stay standing.[1] |
| Emote: Thanks | Link▶️I am grateful.[1] |
| Unused: Sorry | Link▶️You have my pity. |
| Concede | Link▶️No, wait! |
| Start | Link▶️Do not get in my way.[1] |
| Running out of time | Link▶️The shadows grow long. |
| Thinking [1] | Link▶️My hunt goes on. |
| Thinking [2] | Link▶️The answer is here. |
| Thinking [3] | Link▶️Hmm… |
| Almost out of cards | Link▶️I'm running low on cards. |
| Out of cards | Link▶️I am out of cards! |
| Error: Need a weapon | Link▶️I need a weapon! |
| Error: Not enough mana | Link▶️I do not have enough mana. |
| Error: Minion exhausted | Link▶️That minion has already attacked. |
| Error: Hero already attacked | Link▶️Not yet. |
| Error: Minion not ready | Link▶️Give that minion a turn to get ready. |
| Error: Hand already full | Link▶️My hand is too full! |
| Error: Too many minions | Link▶️My board is full. |
| Error: Can't target Stealthed minion | Link▶️That minion has Stealth. |
| Error: Can't play that card | Link▶️Impossible. |
| Error: Not a valid target | Link▶️I cannot target that. |
| Error: Must attack Taunt minion | Link▶️Do you see the minion with Taunt? |
| Error: Generic | Link▶️Not happening. |
| Selection in Choose Your Hero | Link▶️My grief propels me.[1] |
| Emote: Greetings [Lunar New Year] | Link▶️Happy New Year! |
| Start [Mirror] | Link▶️I would not dream of it.[1] |
| Emote: Greetings [Holidays] | Link▶️Happy Feast of Winterveil. Did you get me a new war glaive? |
| Emote: Wow | Link▶️Beyond belief![1] |
| Emote: Greetings [Happy New Year] | Link▶️Happy New Year! |
| Unused: Greetings [Fire Festival] | Link▶️Enjoy this day, but I do not like the fire. |
| Unused: Greetings [Pirate Day] | Link▶️Today I make demons walk the plank. |
| Emote: Greetings [Happy Halloween] | Link▶️It is Hallow's End. Beware of demons lurking about. |
| Unused: Greetings [Happy Noblegarden] | Link▶️Noblegarden? I hunt demons, not eggs. |
| Emote: Greetings [Mirror] | Link▶️In a manner of speaking.[1] |
| Start [Illidan] | Link▶️I cannot rest until Anetheron falls. |
| Start [Mecha-Jaraxxus] | Link▶️Enjoy your final worthless breath, demon. |
| Upcoming | First, you must go through me. |