Abyssal Summoner
Abyssal Summoner
| | |
| --- | --- |
| Set: | Descent of Dragons |
| Type: | Minion |
| Class: | Warlock |
| Rarity: | Common |
| Cost: | 6 |
| Attack: | 2 |
| Health: | 2 |
| Abilities: | Battlecry, Summon |
| Tags: | Demon-generating, Hand-related, Taunt-generating |
| Artist: | Ivan Fomin |
Battlecry: Summon a Demon with Taunt and stats equal to your hand size.
But gnomes have tiny hands...
Abyssal Summoner is a common warlock minion card, from the Descent of Dragons set.
Abyssal Summoner can be obtained through Descent of Dragons card packs, or through crafting.
| Card | Crafting cost | Disenchanting |
| --- | --- | --- |
| Abyssal Summoner | 40 | 5 |
| Golden Abyssal Summoner | 400 | 50 |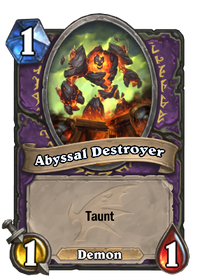 Like Jade Golems, the Abyssal Destroyer's Attack, Health, and Mana cost are set upon being summoned and are not changed when targeted by effects that remove enchantments.

The Abyssal Destroyer's Mana cost is capped at 10.
A powerful tempo and stabilizing card for Handlock and control Warlock decks. With at least 7 cards, it summons a large Taunt minion well worth its cost. The 2/2 body that summons it can also potentially misdirect random targeting hard removal cards like Deadly Shot.
Summon
Attack
Death