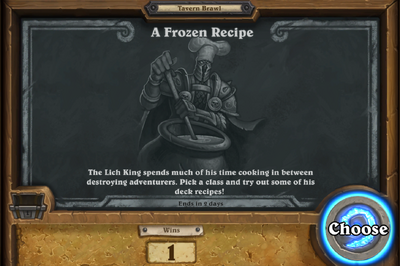 "The Lich King spends much of his time cooking in between destroying adventurers. Pick a class and try out some of his deck recipes!"
A Frozen Recipe is a Tavern Brawl. It made its debut on September 18, 2017.
History
[
]
| Tavern Brawl | Start | End |
| --- | --- | --- |
| 118 | September 13, 2017 | September 18, 2017 |
Overview
[
]
This Brawl sees players competing with pre-made decks, matching Knights of the Frozen Throne-themed Deck Recipes, with most built around hero cards (Druid/Hunter/Mage/Priest/Rogue/Warrior) or synergy with types (Paladin/Shaman/Warlock). Before each game the player chooses a class, which also determines their deck. At the beginning of each player's first turn, the recipe's flavor text is displayed to both players, providing an overview of the deck's contents and strategy. All matches within this Brawl are played on the Knights of the Frozen Throne battlefield.
Deck Recipes
[
]
The pre-made decks used in the Brawl match the Deck Recipes added with Knights of the Frozen Throne, as suggested to players when creating new decks.
Notes
[
]
Strategy
[
]

Please add any available information to this section.
| | Tavern Brawls |
| --- | --- |
| Constructed | |
| Randomized | |
| Premade | |
| Brawliseum | |
| Cooperative | |
| Single-player | |
| Fireside Brawls | |