"Gnomebliterator"
Regular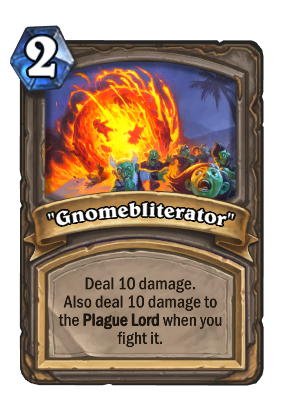 Gold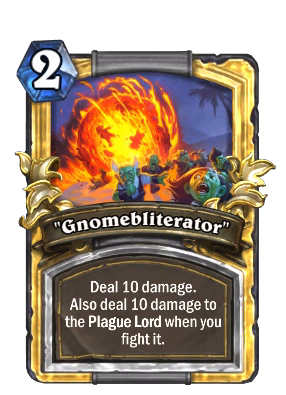 Deal 10 damage. Also deal 10 damage to the
Plague Lord
when you fight it.
External links
"Gnomebliterator" is an uncollectible neutral spell card, from the Saviors of Uldum set. It can be drafted as a treasure in a Tombs of Terror run.
For more information, see Tombs of Terror.
Notes
[
]
If used during a Plague Lord encounter, "Gnomebilterator" will deal an additional 10 damage to them.
If an enemy steals/copies and plays "Gnomebliterator", an additional 10 damage will be done when you fight the Plague Lord, despite the fact that you did not cast it.
Every time "Gnomebliterator" is cast, it will deal its damage to the final Plague Lord for each time it was cast during the run.

Example: Playing 5 of these using Isiset's hero power Mistress of Magic will deal 50 damage to the final Plague Lord.

If "Gnomebliterator" is cast when any spell damage is on the board, the Plague Lord will receive the bonus damage even if there is no spell damage on the board at the start of the encounter.
Gallery
[
]
Patch changes
[
]